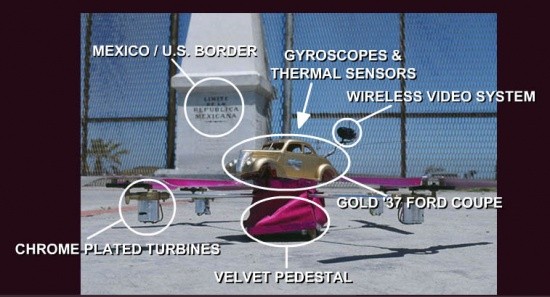 Since the 1960s unmanned aerial vehicles armed with video surveillance capabilities, or 'drones,' have become a fixture on military battlefields. The unmanned airplanes allow for long flights at low cost at low risk in dangerous environments. Recently this technology has been deployed beyond the battlefield, in such contested spaces as: urban ghettoes, occupied territories, and transnational borders.
A vigilante group based in the American southwest, called "American Border Patrol" (the predecessor to "The Minuteman Project"), was the first to use a drone on the border. They bought a model airplane, mounted a wireless video camera on it, and flew 'sorties' over the desert that crosses from northern Mexico into southern Arizona, searching for 'illegal invaders' from Mexico. They received so much press and praise for their actions that they were able to push the real U.S. Border Patrol (now part of the Department of Homeland Security) to purchase and deploy military grade drones over the border. Drones are a new icon of the border, as ubiquitous as the famous highway signs of an immigrant family running, or the green and white striped Jeeps used by la migra.
Beyond the border, urban police squads lead by the LAPD are planning to replace their famous 'ghetto bird' police helicopters with smaller, more efficient and more omnipresent, drones. These drones will no doubt be used primarily over neighborhoods of color like Compton, Watts, and East LA - neighborhoods where Latinos and Latino immigrants now form growing majorities.
On the border, and in new urban neighborhoods, Latinos are uniquely, and increasingly, objects of the gaze of unmanned aerial drones.
The drone, however, is not the first technology to invade Latino neighborhoods. A technology that's practically synonymous with Los Angeles, the automobile, was actually forced on southern California by corporate interests that tore up the old public train tracks.
Decades later, Chicano artists began to warp the automobile. They took the car, which is supposed to be a tool of economic productivity, and made it the subject of an aesthetic experiment, creating the lowrider. With its hydraulic suspension, eye-popping paint job, and customized interiors, the lowrider puts aesthetics above functionality. The lowrider, in a sense challenges an economic model and lifestyle of constant relentless pursuit of 'productivity' and 'efficiency.'
Inverting invasive technologies is a technique of resistance that has a deep history in Latino communities. With our project for Tijuana Calling, we are beginning that kind of inversion / aesthetic warping with the aerial drone.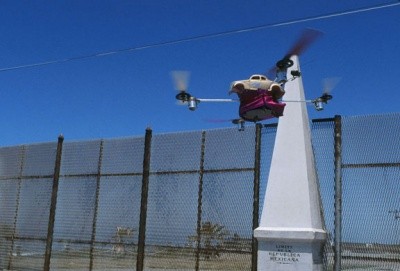 For Tijuana Calling, we built a website that allows the user to virtually control the "LowDrone" - the world's first flying lowrider, armed with aerial surveillance capabilities. Through the website, users simulate control of the LowDrone, and fly it over one of the most surveilled spaces on the planet - the U.S./Mexico border between Tijuana and southern California.
By doing so, we hope to launch several critiques.
The first is to simply demonstrate that the skies should not, and do not, belong only to the military/industrial complex. Artists, activists, and other trans-border citizens can and should have their own presence in the skies, for whatever purpose: counter-surveillance, aesthetics, etc. With LowDrone.com we're reclaiming a few inches of sky space for the purpose of art and activism. An alternative witnessing.
Second, by modifying a drone to have the look of a lowrider, we are both referencing the history of aesthetic resistance and creativity of the Latino community and taking that specific history one evolution further by building a prototype an airborne Lowrider.
Third, by performing with the LowDrone on the border, and inviting the InSite audience to participate in the performance, we're making a performative gesture against the concentration of power and wealth that the Border Patrol's drones represent.
With LowDrone.com we hope to demonstrate that another world is possible - a world where technology serves many communities, and the line between watcher and watched is never absolute.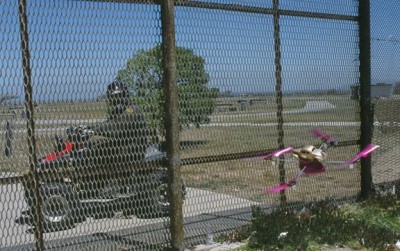 Artists' Bios
Angel Nevarez
Nevarez (Mexico City, Mexico, 1970) studied biology at the University of California, San Diego and in 2001-2002 was a studio fellow of the Whitney Museum Independent Study Program. A multidisciplinary artist and musician, he is co-founder of the artist collaborative neuroTransmitter, whose work fuses transmission and conceptual art with concepts in sound production, mobile transmission system design, and neuroscience. neuroTransmitter has performed and exhibited works at The Drawing Center (New York, US, 2004); the Mutter Museum (Philadelphia, US, 2004); the Museu Da Imagem E Do Som (Sao Paulo, Brazil, 2004); and the Musterraum (Munich, Germany, 2004). Alongside his collaborative work, Nevarez has maintained an individual art practice and has shown his work at the 8th Biennial Festival, LA Freeways (Los Angeles, US, 2002); Sarah Lawrence College (New York, US, 2002); The Bronx Museum of the Arts (New York, US, 2000); and the Lecture Lounge, PS1 Clocktower Gallery (New York, US, 2001). Nevarez currently lives and works in New York.
Alex Rivera
Rivera (New York, US, 1973) received his BA from Hampshire College in Amherst. His work has been broadcasted on PBS and has been screened at the Guggenheim Museum (New York, US, 2001, 2000); the Telluride Film Festival (Telluride, US, 1999); the New Museum of Contemporary Art (New York, US, 1997); the San Francisco Exploratorium (San Francisco, US, 1997); the Lincoln Center (New York, US, 1996); The Museum of Modern Art (New York, US, 1996); and the Nuyorican Poets Café (New York, US, 1995). Working with eleven other filmmakers, Rivera founded SubCine.com, a distributor entirely focused on selling Latino film and video to the educational market in 2000. He also worked with La associación Tepeyac, the largest association of Mexican immigrants in New York, to found a video school. Rivera is a Sundance Fellow, Rockefeller Fellow, and a recipient of a Silver Hugo. He currently lives and works in Los Angeles.