---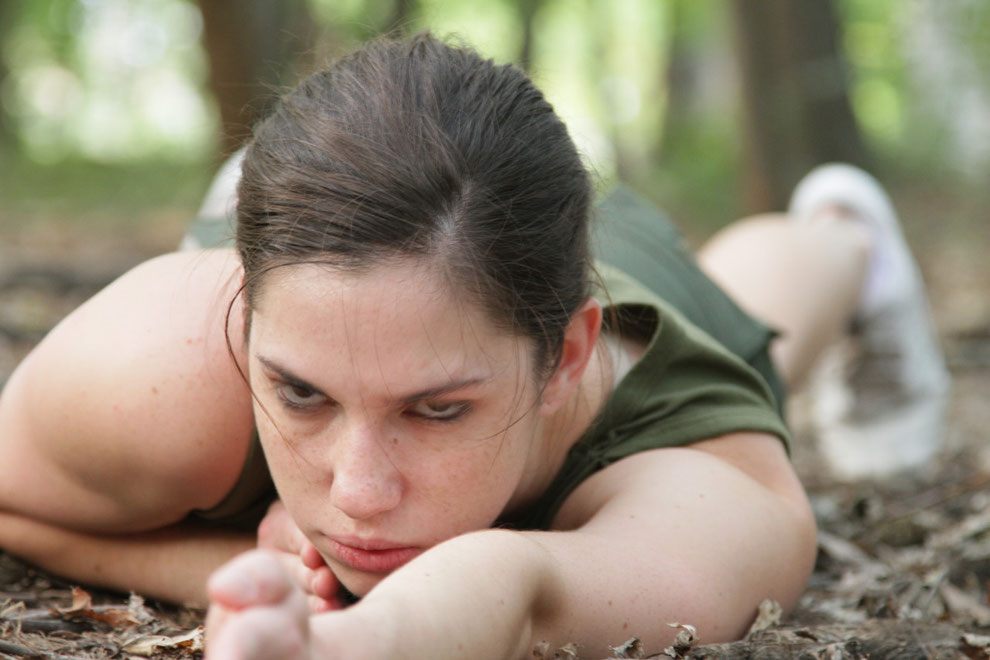 Forest Park 2 (Samantha), inkjet print, 36x54 inches, 2012
Posse Comitatus is a multi-part project that I made in collaboration with Chelsea Knight. We set out to investigate the militia movement, a grassroots network of autonomous paramilitary groups that arose in the United States the mid-1990s, and made contact with a militia group in Upstate New York. In the spring of 2012, the group allowed us to film their training exercises at a rural location and to visit their leader's suburban home, where they demonstrated various firing positions and formations.
In the summer and fall of 2012, we worked with Cecil Slaughter, a choreographer in St. Louis, to create a dance performance based on our militia footage. We filmed two versions of the dance performance: one in a forest, and another on stage with lights, music and a video projection at the Mertz Dance Studio at Washington University.
In June 2013, we worked with Valerie Oberleithner, an Austrian choreographer, and two dancers, Lautaro Prado and Emilie Combet, to develop a second part of the project in which we focused on rehearsal itself as a performative activity. We staged a series of ten public rehearsals for an exhibition called "The Real Thing?" curated by Antonia Alampi and Jason Waite as part of "Nouvelles Vagues," a meta-exhibition at the Palais de Tokyo in Paris. The rehersals were staged on a platform in front of projections of video of militita training exercises. The idea was to continually rehearse without ever finishing or finalizing a "dance piece." We were thinking of the rehearsal process, like the militia training exercises depicted in the video projected behind the dancers, as pre-performance.
---
---
---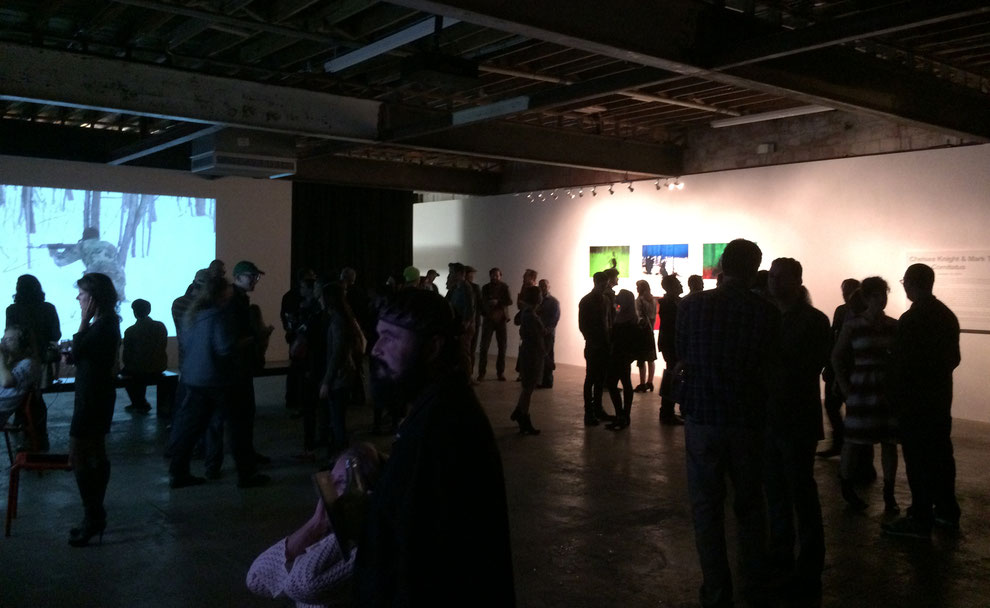 Posse Comitatus at Diverse Works, Houston, Tx, 2014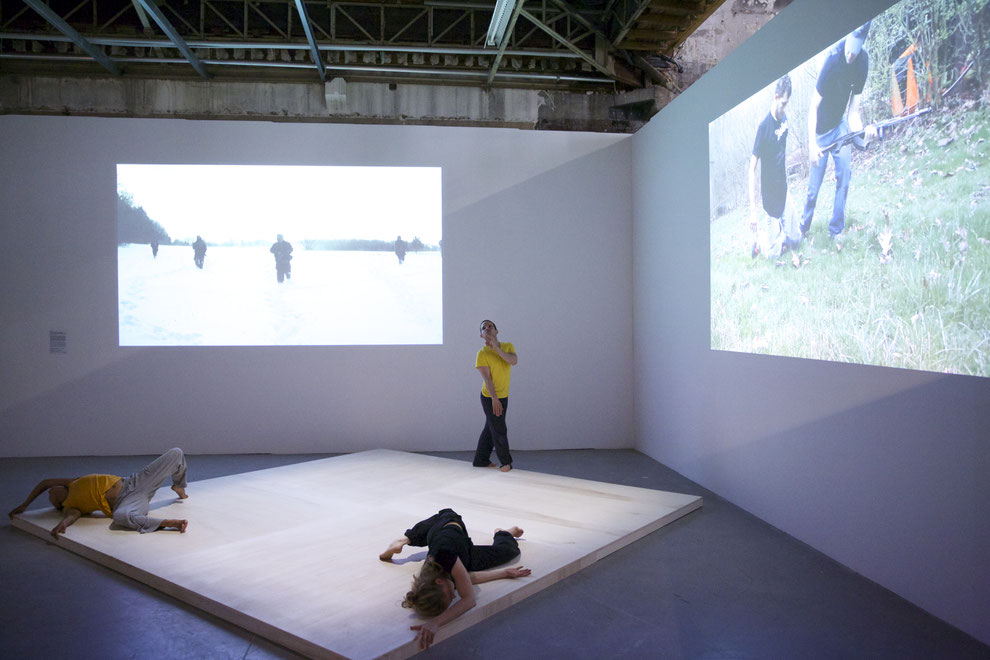 Posse Comitatus at Palais de Tokyo, Paris, 2013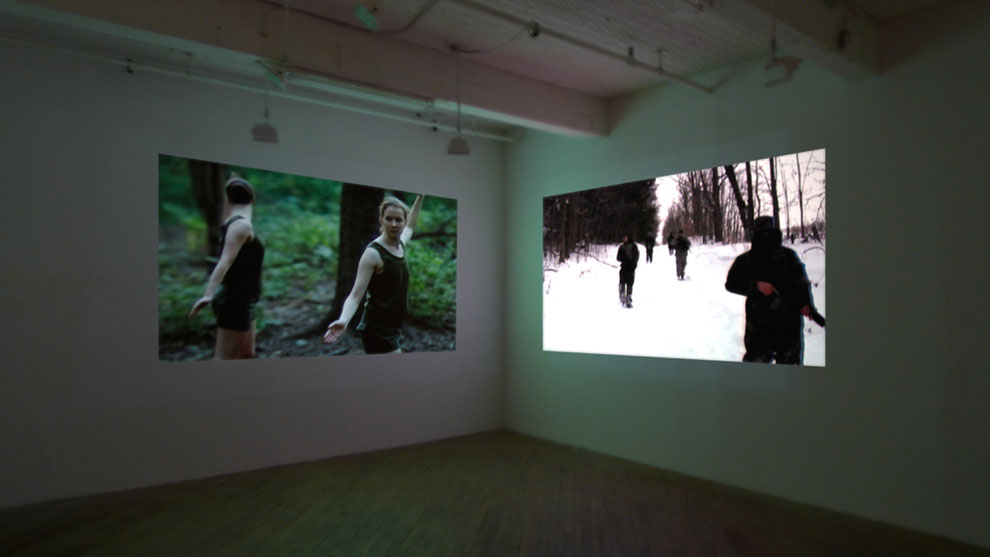 Posse Comitatus at Vox Populi, Philadelphia, PA, 2013
Diverse Works, Houston, November 22, 2014 - January 10, 2015. Two-person exhibition  curated by Rachel Cook, featuring six Posse Comitatus photographs and a single-channel Posse Comitatus video installation along with Chinoise A, three Port Huron Project videos, and several of Chelsea Knight's video works.
Palais de Tokyo, Paris, June 20 - September 8, 2013. Group exhibition ("Nouvelles Vagues") featuring a series of Posse Comitatus dance rehearsals staged in the gallery and a two-channel Posse Comitatus installation.
Momenta Art, Brooklyn, January 11 - February 17, 2013. Group exhibition featuring a two-channel Posse Comitatus installation.
Vox Populi, Philadelphia, January 4 - 27, 2013. Solo exhibition featuring a two-channel Posse Comitatus installation.
Optica Center for Contemporary Art, Montreal, October 20-December 1, 2012. Group exhibition featuring a two-channel Posse Comitatus installation.
---
Posse Comitatus is a Latin term that means "force of the county." Historically, the term has been used to refer to the common law authority of a county sheriff to summon a group of citizens (a "posse") to enforce the law. In the context of the contemporary militia movement, it conveys to the idea that citizens have an inalienable right to defend themselves against tyranny, even if that means taking up arms against the state.
Militias proliferated in the United States following violent conflicts between federal agents and citizens in Ruby Ridge, Idaho, in 1992 and Waco, Texas, in 1993. The movement peaked in 1996, with 858 groups in 50 states, went into a period of decline, and regained momentum following the 2008 election of Barak Obama. The militia movement is not as ideologically homogeneous as one might assume; while some groups espouse white supremacy, others repudiate intolerance and welcome diversity. They are united by a suspicion of federal government, fear of a "New World Order," nostalgic attachment to the American Revolution, and a fondness for guns and all things military. 
---
The Daily Beast: "Tribe and Knight documented the activities of a survivalist paramilitary "club" in upstate New York, and also commissioned and taped a work of modern dance built around that footage. Videos of both are on view in the installation, where warfare and dance come off as surprisingly similar: They're about rigor and training and craft, as well as the extreme artifice of rule-bound play. The guys tramping through snow in their camo are already involved in a dance, whether they know it or not. They might as well be in tutus."
- Blake Gopnik, "Dances of Death"